---
We build and care for community; we challenge ourselves to grow; we take responsibility for ourselves, each other, and the world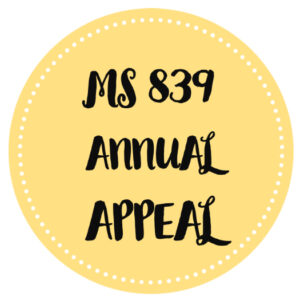 ---
GIVING TUESDAY ANNUAL APPEAL REQUEST
Dear MS 839 Families:
Part of MS 839's mission says that by "working together with our uniquely diverse families to make thoughtful decisions, we can provide an educational experience that readies our students for the future and the real world." COVID-19 and the social justice events have provided an extra challenging situation for all of us. MS 839's administration and staff and our families have risen to meet the challenge. Once again they have worked together tirelessly to provide excellent education and attend to our children's social and emotional needs.
Today is Giving Tuesday so we are asking you now to make a donation to MS 839's Annual Appeal – the PTA's single largest fundraiser of the year — to ensure that the school can continue to bring our students a well-rounded and supportive education whether in school, at home or both!
The MS 839 teachers and administrators continue to reinforce the core values of community, service, mutual respect, global empathy and compassion for all. While our children are given the necessary academics and support that will help them develop into adults, they are reminded they are in control of their destiny: "We Are Crew, Not Passengers."
The essence of MS 839's values is to work together to achieve a common goal. Our families have supported the school every step of the way this year, which includes financial support. Right now, to help the PTA continue to help MS 839 fill funding gaps that are larger than usual due to pandemic-related costs and budget cuts, we need our families who are in a position to help financially, to do so now. We too are Crew and we cannot do it without YOU!
No amount is too large or small. Every dollar donated will be used to fund opportunities for our children and especially to support our school to function effectively and safely during the pandemic. So please support our diverse and inclusive community, help us rise to the challenge we face, and take responsibility for our part in our special school by donating what you can now.
Please make a donation online HERE. To send your donation by check, make it out to MS 839 PTA. You can mail or drop off your check at the main office. Please write Annual Appeal on the memo line of the check.
Thank you so much,
PTA Co-Presidents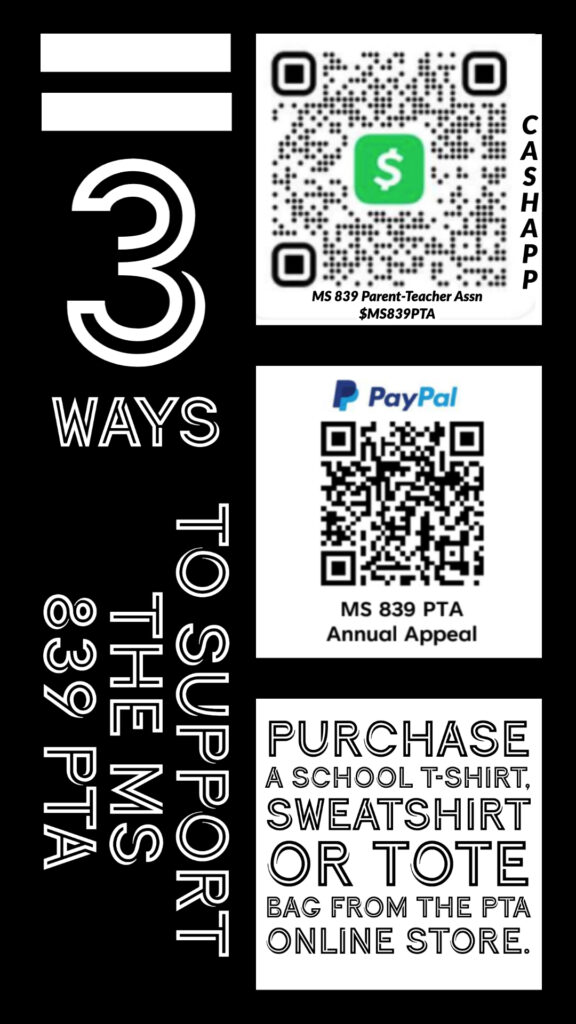 The MS 839 PTA is a 501(c)3 nonprofit. All donations to MS 839 PTA are 100% tax-deductible.
+++++ EN ESPAÑOL +++++
SOLICITUD DE APELACIÓN ANUAL DEL MARTES
Estimadas familias de MS 839:
Parte de la misión de MS 839 dice que al "trabajar junto con nuestras familias excepcionalmente diversas para tomar decisiones meditadas, podemos brindar una experiencia educativa que prepara a nuestros estudiantes para el futuro y el mundo real". Este año, el mundo real ha proporcionado una situación más desafiante para todos nosotros, y la administración y el personal de MS 839 y nuestras familias se han levantado para enfrentar el desafío. Una vez más, han trabajado juntos incansablemente para proporcionar una educación excelente y un apoyo profundo tanto de forma remota como en persona, esta vez en medio de una pandemia y recortes presupuestarios en toda la ciudad.
Hoy es martes de donaciones, por lo que le pedimos que haga una donación a la Campaña Anual de MS 839, la recaudación de fondos más grande del año de la PTA, para garantizar que la escuela pueda continuar brindando a nuestros estudiantes una educación integral y de apoyo ya sea en la escuela , en casa o en ambos!
Los maestros y administradores de MS 839 continúan reforzando los valores fundamentales de comunidad, servicio, respeto mutuo, empatía global y compasión por todos. Si bien nuestros niños reciben la formación académica y el apoyo necesarios que los ayudarán a convertirse en adultos, se les recuerda que tienen el control de su destino: "Somos tripulación, no pasajeros".
Trabajar juntos para lograr un objetivo común es la esencia de los valores de MS 839. Nuestras familias han apoyado a la escuela en cada paso del camino este año, y eso incluye económicamente. En este momento, para ayudar a la PTA a continuar ayudando a la MS 839 a llenar las brechas de financiamiento que son mayores de lo habitual debido a los costos relacionados con la pandemia y los recortes presupuestarios, necesitamos que nuestras familias que están en condiciones de ayudar financieramente lo hagan ahora. ¡Nosotros también somos Crew y no podemos hacerlo sin USTED!
Ninguna cantidad es demasiado grande o pequeña. Cada dólar donado se utilizará para financiar oportunidades para nuestros niños y, especialmente, para ayudar a nuestra escuela a funcionar de manera eficaz y segura durante la pandemia. Por lo tanto, apoye a nuestra comunidad diversa e inclusiva, ayúdenos a enfrentar el desafío que enfrentamos y asumir la responsabilidad de nuestra parte en nuestra escuela especial donando lo que pueda ahora.
Haga una donación en línea AQUÍ. Para enviar su donación con cheque, hágalo a nombre de MS 839 PTA. Puede enviar su cheque por correo o dejarlo en la oficina principal. Escriba Apelación anual en la línea de nota del cheque.
Muchas gracias,
Copresidentes de la Junta de Padres (PTA)
MS 839 PTA es una organización sin fines de lucro 501 (c) 3.
Todas las donaciones a MS 839 PTA son 100% deducibles de impuestos.