What is the Annual Appeal?
MS 839's PTA Annual Appeal is our largest fundraiser of the year. These outright gifts to the PTA help ensure an enriching and rewarding year for our kids and our school community, providing school budget-relieving support for needs, such as:
Outward Bound Camp 

Crew Programs

School musical production costs

Athletics: co-ed soccer, co-ed basketball, girls volleyball, and cross country

Clubs, which are run by teachers and available during the school day for all students
Why give?
Our amazing school faces over $800,000 in budget cuts in the 2022-2023 school year. Partnership between school leadership and the PTA is critical in responding to MS 839's essential needs that impact the daily experience of all students. Please support our diverse and inclusive community, help us rise to the challenge we face, and take responsibility for our part in our special school by donating what you can. You can make a difference!
How much should I give?
Families often ask, "How much should I give? How can we make a difference?" Consider these numbers:
Our Annual Appeal need this year is $70,000

Gifts typically range from $25 to well-over $10,000 and everywhere in between. Consider what amount is right for you and your family and go for it!

Every single donation

, no matter the amount, is

necessary and important

to reaching our collective goal.

You can make a difference!
How can I donate?
Making a donation online by credit card is easy! You can click here to give to the PTA online. To use PayPal, click here or scan the image below.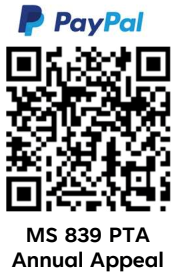 Gifts by check can be dropped off to the school office on the 4th Floor. The PTA also accepts gifts through Donor Advised Funds or other charitable giving vehicles. Contact fundraising@ms839.org for details.
Corporate Matching: Employer matching is an easy way to double the impact of your donation and make a huge impact for our school! Here is a list of some employers that match charitable contributions. Even if your company is not listed, we encourage you to inquire with your employer. Reach out our Treasury Team for support at pta.treasurer@ms839.org.
MS 839's PTA tax EIN is 47-5076855. Your donation is tax deductible.
Donations are highly encouraged before December 31, 2022. This will help us plan for the 2022-2023 school year.
Questions can be directed to: 
Diana Gatschet
fundraising@ms839.org
MS 839 PTA, VP of Fundraising--Annual Appeal
Parent of a 7th grader