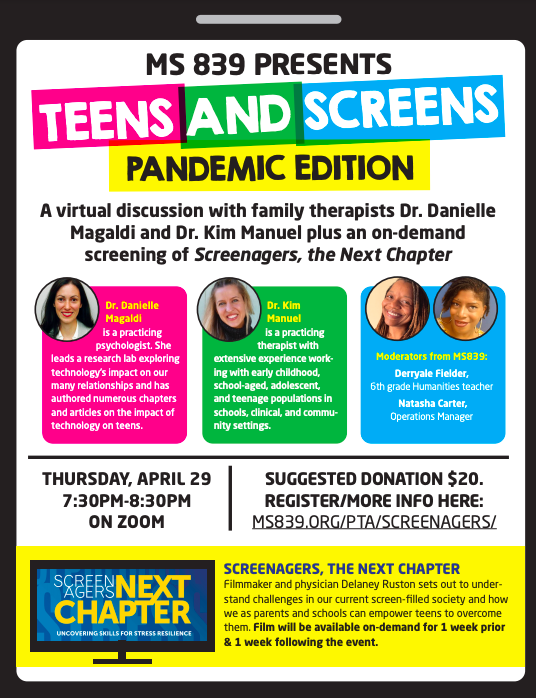 Thursday, April 29 from 7:30pm-8:30pm
Join the MS839 community for a virtual panel discussion on how we can better navigate teens' screen use–difficult during normal times and even harder to manage and understand amidst this pandemic. Featuring experts in child psychology Dr. Danielle Magaldi and Dr. Kim Manuel, and moderated by 6th Grade Humanities teacher Derryale Fielder and Operations Manager Natasha Carter, we will discuss relevant aspects of the Screenagers film but focus much of our talk around specific changes and developments that have come about because of our now necessary reliance on screens.
Registration includes an on-demand screening of the documentary Screenagers, The Next Chapter, which can be viewed up to a week before or a week following our event. The film is available with Spanish or Urdu subtitles.
Please help us to cover the cost of this film and to raise money for MS 839. Suggested donation is $20. Please pay more if you can and less if you can't. Free for those who cannot pay.
Danielle Magaldi, PhD is an Associate Professor at the City University of New York and a practicing psychologist. She leads a research lab exploring technology's impact on our many relationships and has authored numerous chapters and articles on the impact of technology on teens. She approaches her work from a holistic perspective, blending knowledge as a professor of special education, a pediatric occupational therapist, and a practicing psychologist. She maintains a private practice in Park Slope and the West Village where she works with children, adolescents, adults, and couples, on anything that might bring them into therapy. Danielle is also a mother of teens and lives in Park Slope.
Dr. Kim Manuel received her Ph.D. from the University of California—Berkeley, Master's degrees from the University of California—Berkeley and Harvard University, and Bachelor of Science from NYU. She has extensive experience working with early childhood, school-aged, adolescent, and teenage populations in schools, clinical, and community settings. Her therapy specializations include managing anxiety around school and friendships, adolescent identity issues, stress, and life transitions and tailors supportive psychotherapy to each individual's needs, often with the integration of Cognitive Behavioral Therapy (CBT).
Filmmaker and physician Delaney Ruston uses a personal lens and professional eye to help us all flip the script on stress, anxiety, and depression. We follow Delaney as she finds herself at a loss on how to help her own teens as they struggle with their emotional wellbeing. Ruston sets out to understand these challenges in our current screen-filled society, and how we as parents and schools empower teens to overcome mental health challenges and build emotional agility, communication savvy, and stress resilience.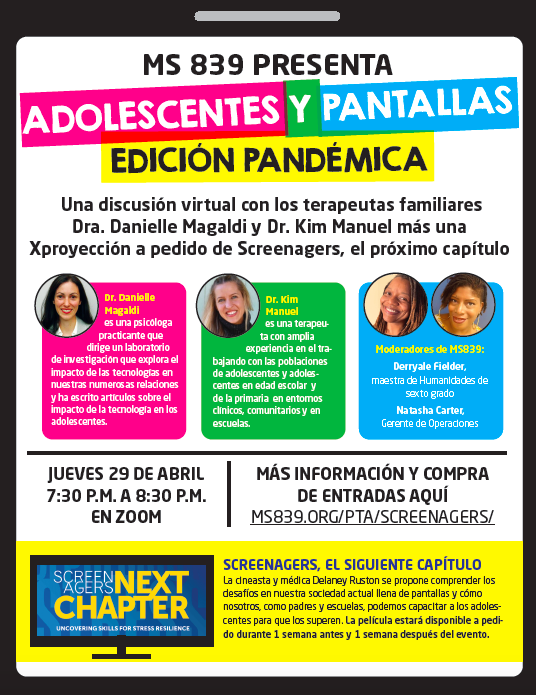 SCREENAGERS, EL SIGUIENTE CAPÍTULO

Jueves 29 de abril 7:30 pm a 8:30 p
Únase a la comunidad MS839 para un panel virtual sobre cómo podemos navegar mejor por el uso de la pantalla de los adolescentes, algo difícil en tiempos normales y aún más difícil de manejar y comprender en medio de esta pandemia. Con los expertos en psicología infantil Dra. Danielle Magaldi y la Dra. Kim Manuel, y moderados por el maestro de Humanidades de sexto grado Derryale Fielder, discutiremos aspectos relevantes de la película Screenagers pero enfocaremos gran parte de nuestra charla en cambios y desarrollos específicos que se han producido porque de nuestra ahora necesaria dependencia de las pantallas.

Registro incluye una proyección bajo demanda del documental Screenagers, The Next Chapter, que se puede ver hasta una semana antes o una semana después de nuestro evento. La película está disponible con subtítulos en español o urdu.
Danielle Magaldi, PhD es profesora asociada en la City University of New York y psicóloga en ejercicio. Dirige un laboratorio de investigación que explora el impacto de la tecnología en nuestras muchas relaciones y es autora de numerosos capítulos y artículos sobre el impacto de la tecnología en los adolescentes. Ella aborda su trabajo desde una perspectiva holística, combinando conocimientos como profesora de educación especial, terapeuta ocupacional pediátrica y psicóloga en ejercicio. Mantiene una práctica privada en Park Slope y West Village, donde trabaja con niños, adolescentes, adultos y parejas, en cualquier cosa que pueda llevarlos a la terapia. Danielle también es madre de adolescentes y vive en Park Slope.

La Dra. Kim Manuel recibió su Ph.D. de la Universidad de California — Berkeley, maestrías de la Universidad de California — Berkeley y la Universidad de Harvard, y Licenciatura en Ciencias de la NYU. Tiene una amplia experiencia trabajando con poblaciones de la primera infancia, en edad escolar, adolescentes y adolescentes en escuelas, entornos clínicos y comunitarios. Sus especializaciones en terapia incluyen el manejo de la ansiedad en la escuela y las amistades, problemas de identidad de los adolescentes, estrés y transiciones de la vida y adapta la psicoterapia de apoyo a las necesidades de cada individuo, a menudo con la integración de la terapia cognitivo-conductual (TCC).
SCREENAGERS, EL SIGUIENTE CAPÍTULO
La cineasta y médica Delaney Ruston usa una lente personal y un ojo profesional para ayudarnos a cambiar el guión sobre el estrés, la ansiedad y la depresión. Seguimos a Delaney mientras se encuentra perdida sobre cómo ayudar a sus propios adolescentes mientras luchan con su bienestar emocional. Ruston se propone comprender estos desafíos en nuestra sociedad actual llena de pantallas, y cómo nosotros, como padres y escuelas, empoderamos a los adolescentes para superar los desafíos de salud mental y desarrollar agilidad emocional, conocimiento de la comunicación y resistencia al estrés.