Auction & Spring Soiree (May 23) / Subasta y velada de primavera (23 de mayo) / নিলাম এবং বসন্ত সোয়েরি (মে 23) / Аукцион и весенний вечер (23 мая)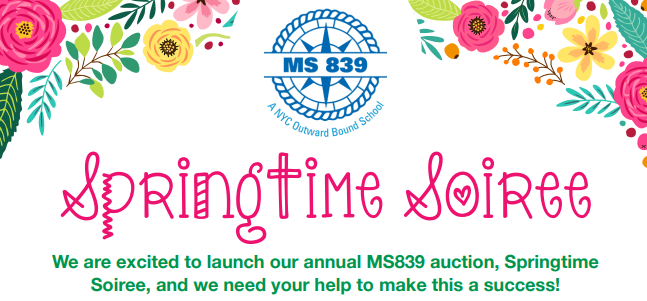 The auction is a critical component of our annual fundraising effort and plays a major part in funding enrichment activities, such as Outward Bound trips, that make our school special. Our goal is to raise $25,000 through this year's auction. Please visit our Springtime Soiree auction page to learn more. Please join us in supporting and celebrating our school.
---
Welcome to MS 839, a New York City public school located in District 15. We hope you will enjoy this virtual tour featuring staff, students, and alumni of our school. The supplemental tour video describes the latest updates on our scheduling, sports, language offerings, and other activities. Please also visit us on Facebook and Instagram.
For any questions, please contact our Parent Coordinator at leah.ruggiero@ms839.org.
Bienvenido a MS 839, una escuela pública de la ciudad de Nueva York ubicada en el Distrito 15. Esperamos que disfrute de este recorrido virtual con el personal, los estudiantes y los ex alumnos de nuestra escuela. El video complementario del recorrido describe las últimas actualizaciones sobre nuestra programación, deportes, ofertas de idiomas y otras actividades. Visítenos también en Facebook e Instagram.
Si tiene alguna pregunta, comuníquese con nuestro coordinador de padres en leah.ruggiero@ms839.org.
---