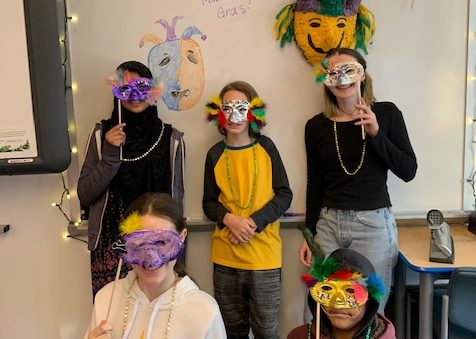 In a slight change to previous years, our arts programming will be staggered across grade levels. We feel this change will give students more time to focus on a particular subject, while making the program more sustainable for teachers.
6th Grade – All students will receive 2 periods of Visual Art, 2 periods of Music, and 2 periods of Media Lab.
7th Grade – All students will receive 2 periods of Spanish, 2 periods of Theater, and 2 periods of Media Lab.
8th Grade – All students will receive 2 "Intensive" courses they will choose from a menu of options.
Visual Arts
Our art classes provide a place where students can learn to work and think like an artist as they learn to give visual and physical form to their ideas, opinions, and emotions. Each expedition culminates a new project and involves the use of new materials. At MS 839, we believe that Art class provides students a place to visually tell their own personal stories and speak their mind about the world around them. Through our strong visual arts program, we hope that each young artist is given ample opportunity to explore the expressive qualities of sculpture, drawing, painting, printmaking, and graphic design.
Theater & Music
Theater provides a variety of opportunities for students to explore their creative side throughout the year including performance activities, playwriting, and technical design. All projects focus on student ownership, teamwork and self expression, encouraging theater students to take creative risks and find their voice — a useful skill in all areas of their lives.