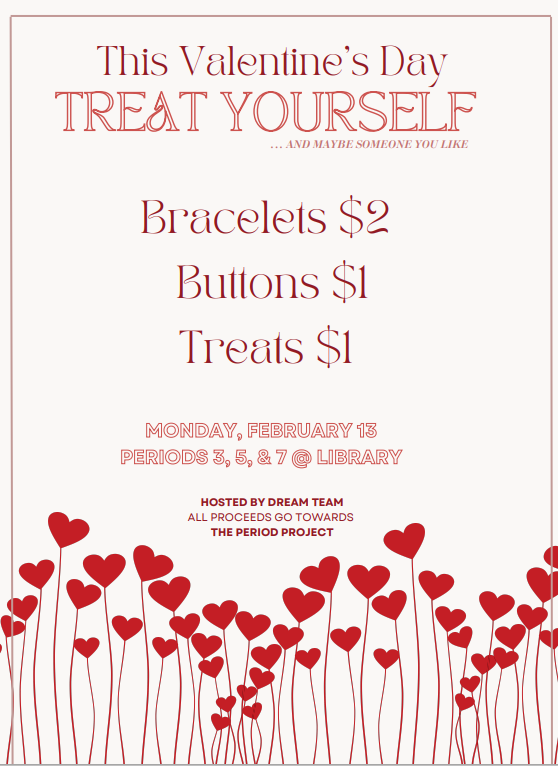 Our Dream Team (a group of 8th grade students that participate in service learning) is hosting a Valentine's Day "Boutique" to raise funds for a very special organization, The Period Project. We have an established "chapter" here at MS 839 and all funds raised will go towards purchasing sanitary products for our school. So if your child asks for a little $ for a school initiative next week, this is what they are talking about.
Nuestro Dream Team (un grupo de estudiantes de 8º grado que participan en el aprendizaje de servicio) está organizando una "Boutique" del Día de San Valentín para recaudar fondos para una organización muy especial, The Period Project. Tenemos un "capítulo" establecido aquí en MS 839 y todos los fondos recaudados se destinarán a la compra de productos sanitarios para nuestra escuela. Entonces, si su hijo pide un poco de $ para una iniciativa escolar la próxima semana, esto es de lo que están hablando.
আমাদের ড্রিম টিম (অষ্টম শ্রেণির ছাত্রদের একটি দল যারা পরিষেবা শিক্ষায় অংশগ্রহণ করে) একটি খুব বিশেষ সংস্থার জন্য তহবিল সংগ্রহের জন্য একটি ভ্যালেন্টাইনস ডে "বুটিক" আয়োজন করছে,পিরিয়ড প্রজেক্ট। আমাদের এখানে MS 839-এ একটি প্রতিষ্ঠিত "অধ্যায়" আছে এবং উত্থাপিত সমস্ত তহবিল আমাদের স্কুলের জন্য স্যানিটারি পণ্য কেনার দিকে যাবে৷ তাই আপনার সন্তান যদি পরের সপ্তাহে একটি স্কুল উদ্যোগের জন্য সামান্য $ চেয়ে থাকে, তাহলে তারা এই বিষয়ে কথা বলছে।
Наша команда мечты (группа учащихся 8-го класса, которые участвуют в обучении служению) организует «Бутик» ко Дню святого Валентина, чтобы собрать средства для очень особенной организации,Проект Период. У нас есть учрежденное «отделение» здесь, в MS 839, и все собранные средства пойдут на покупку предметов гигиены для нашей школы. Так что, если ваш ребенок просит немного денег на школьную инициативу на следующей неделе, это то, о чем он говорит.